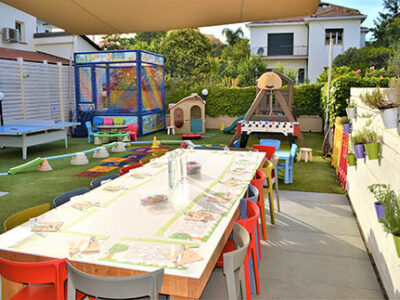 A fantastic space in the open air
Here at La Baia we have a new outdoor space which is even better organised, much nicer and safer — all reserved for you!
A large equipped green area with a certified safety mat so that no one gets hurt rolling around.
There is also a baby area reserved for the little ones and equipped with slides and swings while older children can play ping-pong or table football and use the trampolines.
And what about the large new table covered by a sail? (You won't get sunburnt and fun is always guaranteed.) This way children can eat all together and participate in cookery workshops for kids: they will learn how to prepare pizza, biscuits and muffins for a snack fit for a king!