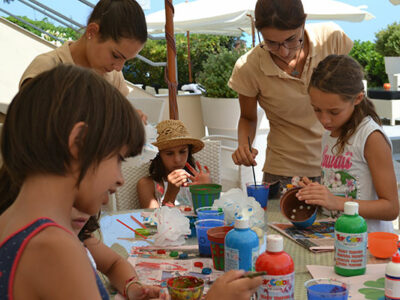 LaBAIAtori: workshops for really great works!
Everyone has creative workshops, but we prefer to call them LaBAIAtori, because they're fun and cheerful, with imagination and magic… a bit like La Baia! For example, we create anti-stress balloons and coloured salt, we decorate t-shirts and we have fun with plasticine. We also plant the memory of La Baia, a souvenir thanks to which the children can think back to their holiday after returning home.
Then there's Masterchef, a cooking workshop that gets lots of laughs and a few little mouths covered in chocolate! …but that's the beauty of it, don't you agree? Learning to cook in company, to the rhythm of fun. So a little greediness and hands in the dough get the green light, to make soft muffins and fragrant little biscuits.