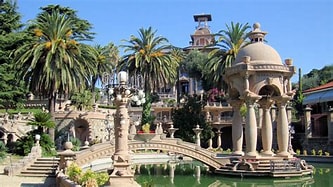 The Clown Museum in Villa Grock
A magical visit that wins the hearts of adults and children alike. Villa Grock is one of the most beautiful noble residences in Liguria, an architectural masterpiece in Art Nouveau style surrounded by a lush enchanted park. The Clown Museum is located in the historical rooms, and is a circus-style exhibition, allowing you to observe this fascinating comical character: magic mirrors, cabinets of wonders, funny figures that appear suddenly and give visitors a first-hand experience.
Then there's the park, with its unique oriental-style decorations, where you can have fun amidst the walkways and fountains, observing the sparkling reflections in the pond with the picturesque bridge, all surrounded by a luxuriant patrimony of plants.